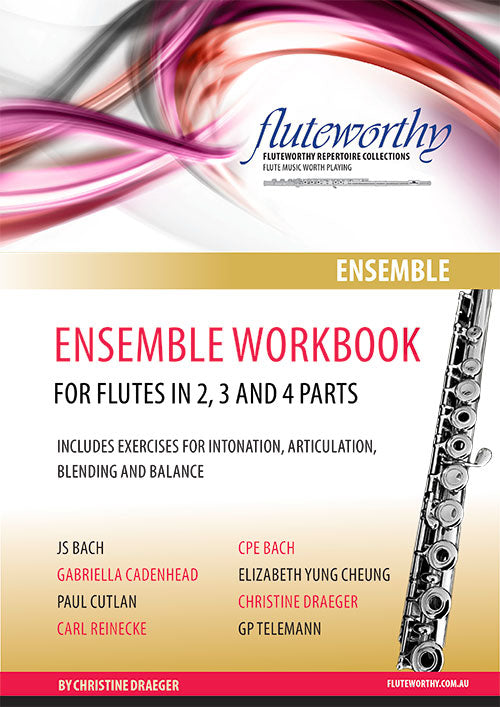 Ensemble Workbook
Fluteworthy
Regular price $21.00 Sale
for flutes in 2, 3 and 4 parts compiled and arranged by Christine Draeger
This is a book for flute players who want to play chamber music confidently and well. It is also for flute teachers who want to get their students to playing together whether in small groups or in a flute choir.
The book starts with some exercises and studies for intonation, articulation and tone blending. Then  there are pieces in two, three and four parts. Styles range from Renaissance to contemporary. Most pieces work well with  either one player per part, or for flute choir.

Students from grade 4 level up to diploma level will all find pieces to challenge and develop their ensemble skills.
Three part Canon for intonation in all keys ...... Draeger    grade 3-4
Tuning exercise F major ................................... Draeger .....4 parts  grade 2-3

Tuning exercise A major .................................. Draeger ..... 4 parts  grade 2-3

If Ye Love Me, Motet ....................................... Tallis .......... 4 parts  grade 3-4

Staccato warm-up exercise

Etude – Staccato ............................................. Cheung ...... 4 parts  grade 4-5

Etude – Tremolo ............................................. Cheung ...... 4 parts grade 4-5

Blending Tone

Larghetto from Op.80 ........................................ Kuhlau ....... 2 parts  grade 3-4

Adagio ma non tanto ......................................... Drouet ....... 2 parts grade 4-5

Banana ......................................................... Draeger ..... 2 parts  grade 4-5

Cantabile ................................................Telemann ... 2 part canon  grade 4-5

Allegro ....................................................Telemann .... 2 part canon  grade 4-5

Vale Johann Sebastian ................ Draeger ........ 2 part canon  grade 6

Secret Signals .........................Cadenhead .... 2 parts            grade 6-7

Andantino from Sonata in C .........C.P.E. Bach ........ Flutes 1, 2 & 3  grade 4-5

Adagio from Trio No.6 Op.59 .......... Kummer .......Flutes 1, 2 & 3  grade 4-5

Andante from Brandenburg No.4 .... J.S. Bach ..Flutes 1, 2, 3 & 4  grade 4-5

Undine Sonata 2nd mvt. ......... Reinecke ....... 4 parts    grade 5-6

Times Past ...............Cutlan ........... Flutes 1, 2, 3 & 4    grade 5-6

Teachers scores for CPE Bach, Kummer, JS Bach, Reinecke, Cutlan