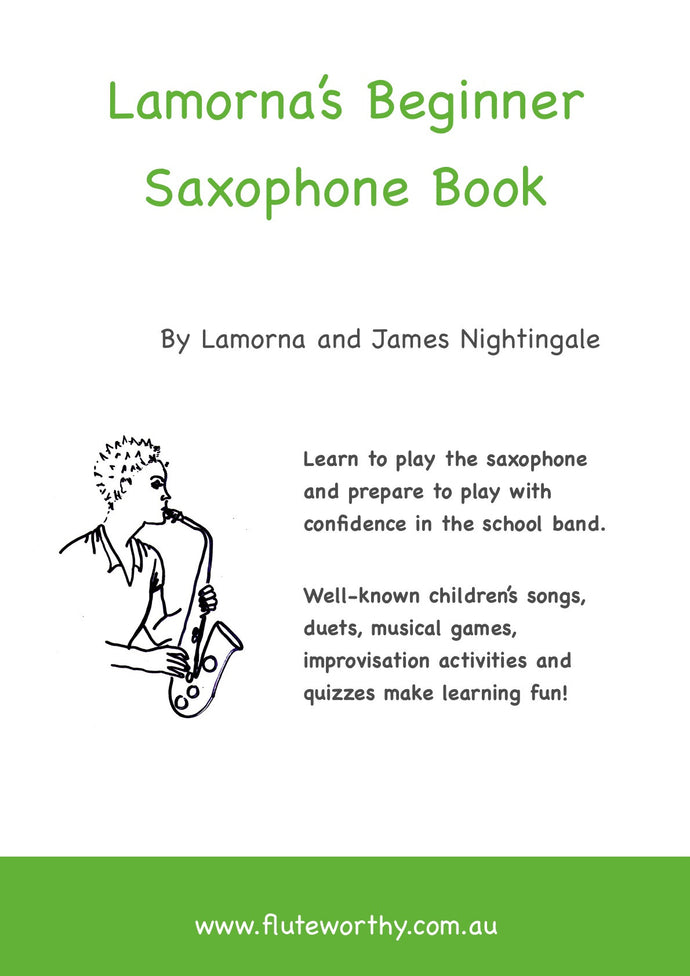 Lamorna's Beginner Saxophone Book
Fluteworthy
Regular price $22.00 Sale
by Lamorna and James Nightingale
Lamorna's Beginner Saxophone book introduces students to the key concepts of playing the saxophone and develops sight-reading, rhythm, and musical creativity in clear logical steps. 

Featuring a layout and notation that is large and clear, Lamorna's Beginner Saxophone Book incorporates aural skills and theory into the learning strategy through the use of games, simple tasks and quizzes. Duets introduce ensemble skills, encourage rhythmic security and good intonation. Report Cards at the end of each chapter connect parents to their child's learning process and demonstrate their achievements.
Introduces basic musical concepts prior to the introduction of notation enabling the teacher to concentrate on technical and musical concepts without the additional complication of teaching music literacy. 

When music literacy is introduced, it reinforces the work already done, thereby promoting the technical basis upon which musicianship can be built.

The book has a strongly directed approach to rhythm. It is our belief that young saxophonists should generally be thinking more clearly about rhythm and we believe it is important that young saxophonists are not guessing 'how it goes'. 

The slow pace at which rhythmic concepts are introduced makes it easy for students to gain a grounding in each rhythmic concept. Quavers are not introduced until half way through the book (which is some 80 pages long!) and compound time is introduced as an addendum to the final chapter. 

The pieces selected for the book are short and tuneful, young players are capable of and actually enjoy playing the pieces accurately.  

Scales are introduced throughout the book, starting with mini-scales so that from the earliest stages of learning, the student will realise that scales are an easy way to get into the flow of making music. 

Throughout the book the students are encouraged to play their saxophone with a strong sound. Instead of introducing dynamics, pieces have directions as to their musical character. Thus, the teacher and student are encouraged to develop musical creativity.

The large number of pieces and duets at each stage of the book capitalise upon the student's understanding of rhythm as it develops, making it much more likely that they are not 'guessing'. 

By the end of the book, students will be playing from low D up to high A and be able to complete the chromatic scale from G to G. 

Following on from Lamorna's Beginner Saxophone Book is Repertoire for the Beginner Saxophonist - full of great pieces for the 1-2 grade player!